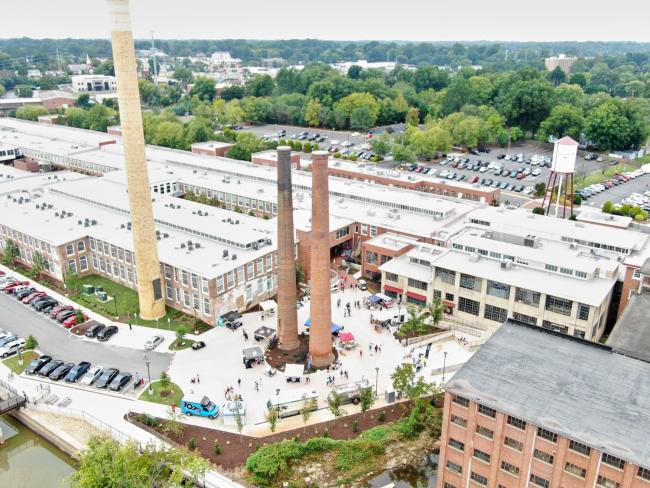 From flannel factory to multi-use campus
By Tammy Danan
From a 121-year-old textile mill in Greensboro, North Carolina, rises a 45-acre, multi-use campus featuring loft apartments, restaurants, workspaces and art galleries.
Once used to host 4,000 workers daily who primarily made flannels, Revolution Mill fell into disrepair and the owner filed for bankruptcy before the property was obtained by local CDFI Self-Help Credit Union. Today, the city landmark is home to 150 loft apartment units, office space, and several restaurants and cafes. Nick Piornack, the general manager of the Revolution Mill, says the property is not the first of its kind for Self-Help.
"Historically, if we [Self-Help] put a credit union in a small town in North Carolina, we'd also try to buy some real estate that was primarily historic, and that can make a difference in the community," Piornack says. "We find what the community needs, we look for some real estate that is usually historic and relevant, and then we go ahead and try to do our best to get some support from tax credits, from new markets… And then we turn around and create these new opportunities in the community. So the Revolution Mill was a big opportunity."
Self-Help's Greensboro project joins a number of blighted factory and manufacturing sites that have been repurposed for private and civic use in cities across the U.S. A 2017 survey found nearly 900 abandoned manufacturing sites in Detroit alone, according to the Detroit Free Press. In many places, such as Philadelphia's River Wards in the Kensington neighborhood and in Trenton, New Jersey, these sites occupy desirable waterfront property. Self Help hopes to return some of these sites in the communities they operate in to productive use.
The Revolution Mill project started with grassroots efforts to engage the community about six years ago, Piornack says, where they offered to host events or parties for community groups. They went to civic groups and did countless presentations on the Mills development plans.
"Instead of advertising and marketing propaganda, we went right after the people to touch and see the Mill first hand," Piornack says. "The word spread quickly, and the leasing began to accelerate."
Revolution Mill is now entering its second phase of development, which will involve 33 more apartment units as well as additional restaurants and commercial tenants. The second phase also includes developing the Mill House, which is the most iconic structure on the campus at six stories high anchoring the corner on Yanceyville street.
Revolution Mill also aims to become an artistic home for the community. Fiber artist Felicia Reed is one of many creatives who have held an exhibit at the mill. Her first-ever solo exhibit — "Woven Ties: Family and Friends" — ran from May to July and featured wraps made through an ancient Mongolian technique of felting using silk and wool fibers and agitating it with soap and water
"They created the setting for art, innovation, creativity," Reed says. "That space is really a vessel, an instrument for people like myself who need to express themselves through art or words or writing, and they create it."
The mill currently has two art galleries, but more space for the arts could be included in future development. While the Revolution Mill team is exploring ideas such as a boutique hotel and a grocery, Piornack says it's important to them to not overdevelop the property. The property currently includes 14-pus acres of grassy rolling hills that they intend to keep.
This article is part of our series, CDFI Futures, which explores the community development finance industry through the lenses of equity, public policy and inclusive community development. The series is developed in partnership with Next City.