Asset Classes Served
Commercial Real Estate, Community Facilities - Childcare, Community Facilities - Education, Community Facilities - Healthcare, Community Facilities - Other, Multi-Family Housing, Small Business, New Market Tax Credit, Rural
Geographies Served
Arizona, California, New Mexico, Nevada
Services Provided
NMTC, Social Impact
Interest Areas
Diversity Equity and Inclusion
Sponsor Highlight, March 2019 CapNexus Newsletter: Clearinghouse CDFI Becomes Native American Bank's First CDFI Investor
Clearinghouse CDFI addresses unmet credit needs by helping to bridge the gap between conventional lending standards and the needs of low-income and distressed communities throughout California, Nevada, Arizona, New Mexico, and Sovereign Nations in the Western U.S. Since 1996, Clearinghouse CDFI has funded $1.5 billion in total loans for over 1,820 projects which have created or retained more than 18,000 jobs and benefit over 1.5 million individuals.
Our Products
Clearinghouse CDFI finances direct loans for affordable housing, community facilities, small businesses, and commercial real estate. Loan types include: construction, acquisition, renovation, expansion, and refinance. Clearinghouse CDFI offers both short and long-term permanent, fixed-rate mortgages from 3-years to 30-years fully amortizing.
Other products include: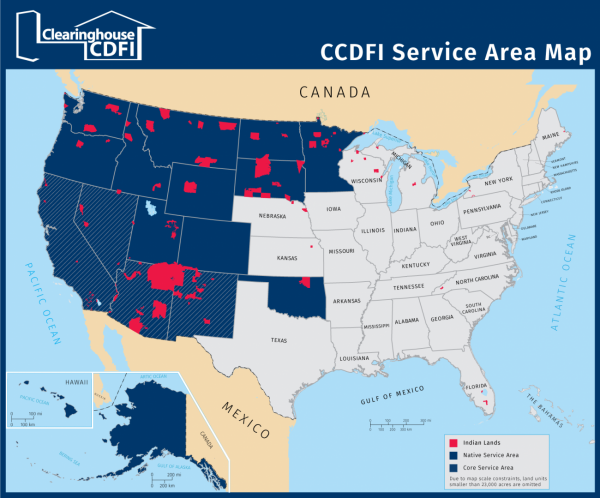 CDFI Bond Guarantee Program - Clearinghouse CDFI has been issued $450 million in total bonds from the program. It has financed a total of 158 loans in 81 municipalities with the funds. These loans range from $125,000 to $9.17 million. They will eventually benefit more than 474,000 individuals. Learn more >>
New Markets Tax Credit Program - Clearinghouse CDFI is one of the largest New Markets Tax Credit (NMTC) Program participants with over $473 million deployed in California and Nevada. Learn more >>
Financing for our communities. Profits for our investors.
We believe that creditworthy borrowers whose projects create assets in the community deserve to be considered for financing. We're here to finance these projects when a borrower's unique circumstances don't fit the criteria for traditional lenders. We analyze every loan application individually with consideration for its potential impact and return. All of our loans provide measurable community benefit.
Impact by the Numbers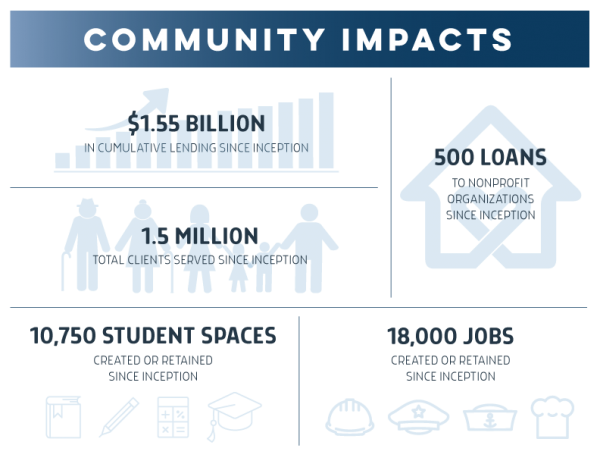 For more information about Clearinghouse CDFI's products, services, and impacts, please view the attached 2017 Annual Report.